Tomorrow Fri July 17: 18th Weekly Friday Feelgood concert of 45 minutes by Saskia Laroo and Warren Byrd aka Duo Laroo/Byrd, live & streamed from their Home
This Sat July 11: Saskia Laroo on Salto TV in program Rappa! by Clous van Mechelen ft Monique Rappa
---
Dear Music Friends, 

So happy it's Summertime, we hope you feel good!
We always love to connect with you, sharing our music.
Last Saturday we had our first public festival gig Northsea Jazz @ M4H in Rotterdam, it felt good to play for a live audience! More public concerts are popping up in the Netherlands:
>Thu July 24: Duo Laroo/Byrd 4tet @ Leidse Geluiden
>Thu July 30: Jazzkia (Saskia Laroo jazz Quartet) @ Red Kees 
>Su Aug 2: Saskia Laroo Band - Trumpets Around The World @ Het Beauforthuis, Austerlitz. Hope to see you there! 

And/Or watch us tomorrow live & online @ our weekly Free Friday Feelgood Concert with Duo Laroo/Byrd: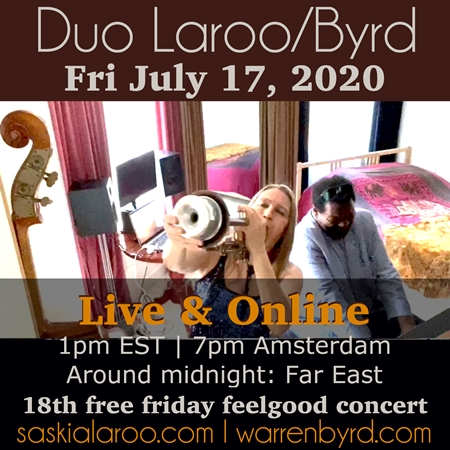 Tomorrow Fri July 17, 2020: Continue to start your weekend with Duo Laroo/Byrd's weekly free Friday feelgood concert series, live and online from home!
Tune in Tomorrow Friday July 17 on Facebook Live
---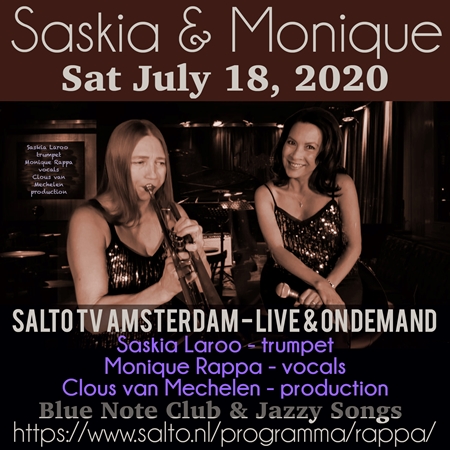 This Sat July 18, 2020 
Saskia Laroo, live & on demand @ Salto TV in program Rappa! by Clous van Mechelen ft Monique Rappa

I am very excited to appear on Amsterdam's own TV channel SALTO TV in program RAPPA, produced by composer, musician and filmer Clous van Mechelen. I play a Jazzy Song with vocalist Monique Rappa. 

More info: https://www.salto.nl/programma/rappa/
---
The Friday Feelgood concerts are free, however any small or large donation is very welcome via
to my bank account: Saskia Laroo, IBAN: NL47ABNA0419443622

to Warren's bank account: Warren Byrd, IBAN: NL97ABNA0464438985

A big thank you for your generosity to those of you who have donated already to our previous Friday Feelgood concerts, this is very essential and meaningful to us
You can also support us by buying our new albums:
Thank you for again watching, donating.. 
and remember, always keep swinging!