Welcome to my official site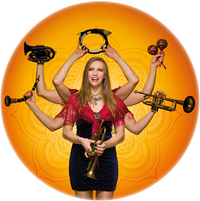 I Love to make Miles on Trumpet! 
I travel the world with my bands from 2 to 8 musicians. 
My original and recorded music is a combination of jazz, pop, world and dance. 
My mission is to connect audiences of different ages and cultures with interactive concerts.
Her music, in kind, sounds like a musical journey with not just pure jazz, but also influences from hip-hop, dance and world music - as if those styles have always belonged together
short bio
Saskia Laroo (1959) was hailed by American public and press at large as "Lady Miles of Europe". She is one of the few women trumpet stylists and a delight on the music scene for almost four decades. Born July 31, 1959 in Amsterdam, it began for her on trumpet at age 8, never dreaming herself becoming a professional musician. That all changed when Saskia, turned 18, after briefly majoring in Mathematics at University of Amsterdam switched her focus to a career in music. She worked extensively in various groups from this point, primarily on upright bass, though eventually, on both bass and trumpet. Saskia Laroo combines today's music by uncontrived romps into new styles, eagerly limned as "nu jazz" or "swingin' body-music"–a vivacious blend of hip-hop, jazz, salsa, funk reggae, and world, that a select few others would dare venture. Her artistry and her groove ring vibrantly and free on her eight CD albums, a LP and a DVD, journeying us through all the music she has absorbed, played with heart and soul. 
By Ausra Listaviciute, adapted by Remco Takken, translated by Warren Byrd